Easter Church Services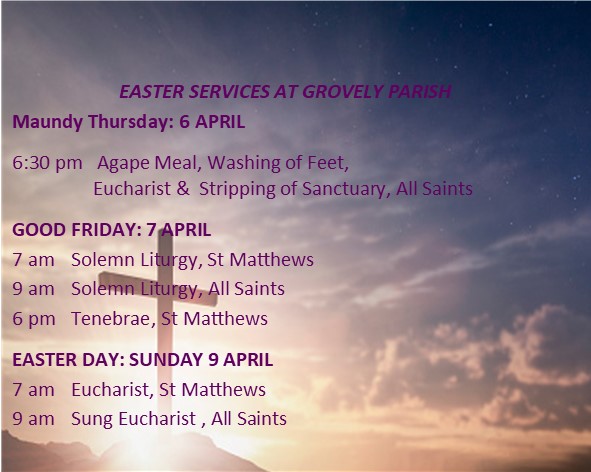 (Weekly service times are given below)
A Daily Prayer
"Trust in the Lord with all your heart and lean not on your own understanding; in all your ways submit to him, and he will make your paths straight." Proverbs 3:5-6
Most loving God, thank you for your amazing power and work in our lives, thank you for your goodness and for your blessings over us. Thank you that you are able to bring hope through tough and uncertain times, strengthening us for your purposes. Thank you for your great love and care. Thank you for your mercy and grace. Thank you that you are always with us and will never leave us. Thank you for your incredible sacrifice so that we might have freedom and life. Forgive us for when we don't thank you enough, for who you are, for all that you do, for all that you've given. Help us to set our eyes and our hearts on you afresh. Renew our spirits, fill us with your peace and joy. We love you and we need you, this day and every day. We give you praise and thanks, for You alone are worthy! Amen.

.
Online Services and COVID-19 Information
Click HERE to view videos (either live or recorded) of online services from various Parishes within the Diocese
Click

HERE

for the links to recordings of past Prayer Services by Rev'd Judy
Click

HERE

for Coronavirus (COVID-19) information for Parishes
For further information about a multi-faith network committed to action on climate change click

HERE
.
Weekly Services
SUNDAY
7 am - St Matthew's - Eucharist
9 am - All Saints - Sung Eucharist & Sunday School
WEDNESDAY
10 am - St Matthew's - Eucharist
SATURDAY
6 pm - St Matthew's - Vigil Eucharist
Easter Services
MAUNDY THURSDAY : 6 April
6:30 pm - All Saints - Agape Meal, Washing of feet, Eucharist & Stripping Sanctuary
GOOD FRIDAY : 7 April
7 am - St Matthew's - Solemn Liturgy
9 am - All Saints - Solemn Liturgy
6 pm - St Matthew's - Tenebrae
EASTER DAY : SUNDAY 9 April
7 am - St Matthew's - Eucharist
9 am - All Saints - Sung Eucharist