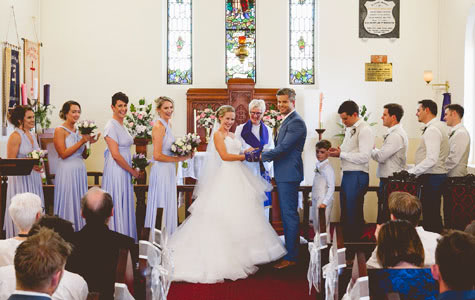 Marrying at Grovely Parish
Congratulations on your engagement and wedding decision! It is wonderful that you have found your life partner, and that you want God's blessing on your lives together.
It is also a legal ceremony, so there are steps along the way that must be completed, by Commonwealth Law. Provided is a list to guide you as you plan your wedding:
Marriage Preparation
We ask that you participate in one of the Marriage Preparation courses offered by the church. Prepare/Enrich is a facilitated discussion for couples wishing to explore their relationship in preparation for marriage or to enrich their life together. Further information about the Marriage Preparation course is available by clicking HERE or by phoning 1300 114 397.
Meeting with the Parish Priest
Takes place once you have completed a "Notice of Intended Marriage." However, this cannot take place more than eighteen months or less than one month prior to the proposed wedding date: that is, you meet with the priest between 1 to 18 months before your wedding. At that time, we complete the legal requirements of the form, and begin to discuss the wedding service.
Flowers and music
These need to be arranged by you with the appropriate parish contacts which will be provided once you have booked your wedding. These women will help you with choice of music, and with the flowers and decorations, matching your bridesmaids' colours, etc. Please ring the parish contacts at least three months before your wedding.
Fees
The fee for a wedding in Grovely Parish is $600. This covers marriage administration, the Priest and the use of the church. The services of an organist and the arrangement of flowers can be organised at additional cost. A deposit of $200 is required when the wedding is confirmed in the church diary, the balance of $400 should be given to the parish Priest at the rehearsal.
Wedding Service Sheet
Our parish secretary is able to produce your wedding service sheet if you so desire. Please contact the parish office to enquire about this process.
Bookings
If you are planning your wedding, we invite you to speak to the priest about marrying in All Saints church or St Matthew's church. Please contact the parish office for more information and to check availability.
More Information?
For more information on Grovely's weddings, please download our Wedding Information Brochure (PDF) or contact us.